Funeral Flowers
The heartbreaking news that somebody near or dear has passed will never come at a good time. But it is necessary that you send sympathy flowers to the family and friends. This will show that you are thinking about them at this difficult time.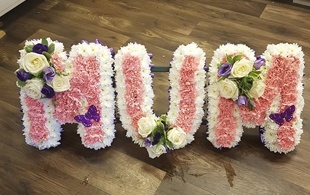 We have been providing flowers for any occasion for many years. We understand the importance of making the right impression. We can take care of every little thing from choosing the right flowers to problem-free delivery.
Flowers are a terrific depiction of life. Delicate and breakable, yet lovely at the same time. That's why flowers are such a crucial part of funeral services. Our funeral flowers make a classy and attractive tribute to your loved ones. We will be honoured if you select a few of our designs to be present for their memorial.
We can also inspire you to find the right words. We can aid with a choice of brief and long messages for funeral flower messages and sympathy cards.
One of the most popular kinds of floral letters that are seen in our flower homages for Mum, Dad, Nan or Grandad. Our flower designers can use white spray chrysanthemum in addition to red roses and freesia. These are formed into an exceptional and fitting funeral flower homage.
Funeral Flowers Nan
Funeral Flowers Mum

Funeral Flowers Daddy
Funeral Flowers Grandad

Large Range Of Funeral Flowers
We have a vast series of flowers for funerals for you to pick from. This makes the options for finding funeral flowers easier. We want to take away the anxiety specifically if you're uncertain just what you desire. When talking to our florist, we can discuss the most popular choices. We can also allow you to take your time to decide just what would be most fitting for you.
Please call 07980 903395 to discuss your requirements or use the contact page to book online.